GLACIER MASTIFFS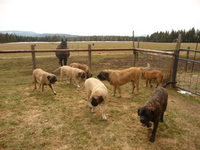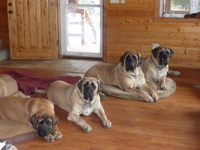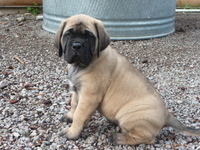 Welcome to Glacier Mastiffs. Exciting new changes at Glacier Mastiffs we have moved!!! I am now in Reno Nevada. The dogs still have plenty of room to play we are on 44 acres for them to roam and chase Jack rabbits LOL. We are still showing and breeding beautiful Mastiffs
I dreamed of owning Mastiffs for many years and decided in 2003 it was time. I had retired from my job and felt I wanted to devote my life to these amazing animals. They have become the focus in my life, I love being owned by these magnificent dogs. They provide me with love, devotion, laughter, and guardianship. My Mastiffs are my family they are raised in my home and spend most of their time on the couch or on the bed. They love to snuggle close and be with me at all times they follow me around from room to room. Now I can not imagine my life without at least a Mastiff or two or three or more.
First and foremost they are my pets and constant companions, but I do show them in conformation, they all go through basic obedience, and some get their CGC certificates, and some are therapy dogs. They love people and especially kids, they get the "wiggle butts" when a child comes to pet them. I socialize them to a wide variety of situations they love to visit the feed stores and Petco. People are so intrigued by their size and how gentle they are.
I breed my Mastiffs for breed standard and attempt to better my dogs with each breeding. More importantly I breed for family companions. I limit my breeding program to achieve the true Mastiff type, good health and excellent temperaments. All my dogs are health tested and I follow the code of ethics set forth by the MCOA. All my dogs are in their forever home, I do not believe in re-homing breeding girls or the Mastiffs that do not make it in the show ring. All these dogs are my family now and forever. I breed for me and plan to keep puppies from every breeding to add to my breeding program. I have my breeding's planned out for many generations and do not follow others plan but have my own. My goal is to create Mastiffs with great heads, body,balance and lines.
I am very proud of the pedigrees of my dogs. Our Pedigrees include Greco, Greiner Hall, Hollesley, Tamarack, Fortescue, Jengren, Millcreek, Chagrin, Bulliff, Odinlair, Cedwalla,Storm,Delbeech, St Patricks and Falmorehall to name a few. I choose to breed to the lines of the Mastiffs from the past. Many of my pedigrees are old pedigrees you will not see a lot of CH in my lines because I choose to breed a heavier, large bone, big heads, Mastiffs that look like a Mastiff not a daney Mastiffs that I am seeing more and more of that tend to do well in the show ring. I will not breed for the show ring I breed for the true Mastiff type. I do show my dogs so they are evaluated by my peers and AKC judges I do attain championships on them which I am very proud of but it is not easy. Many judges overlook a typey mastiff.
At Glacier Mastiffs

I am

here to educate you on Mastiffs and their needs. Please call or e-mail me with any questions. I am here to support the Mastiff whether you get a puppy from me or not.
I

hope that through proper education you will not support backyard breeders, puppy mills or pet stores.
Most reputable breeders want nothing more than to improve this breed through responsible breeding and education of their puppy buyers for life of their Mastiff.
I hope you enjoy my site and I hope that you learn more about how special, and noble these dogs really are.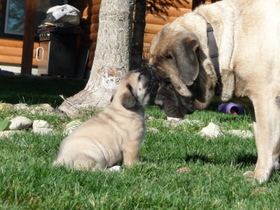 Tia and her grandson Gramm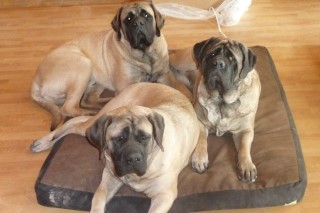 mom Tia and her kids Troy and Carlee at 1 year old